When spring temps allures us to go for sight seeing, this time we went to see
Eugenie les Bains
only a 30 min drive away, nearby town with a Spa among other spas aroud here.
Its a small town with many hotels and restaurants specially for the tourists/curists. The main building seems like a palace and its the hotel restaurant by the great 3* chef Michel Guerard.
There is also his smaller restaurant La Fermes aux Grives which is same quality but not as expensive.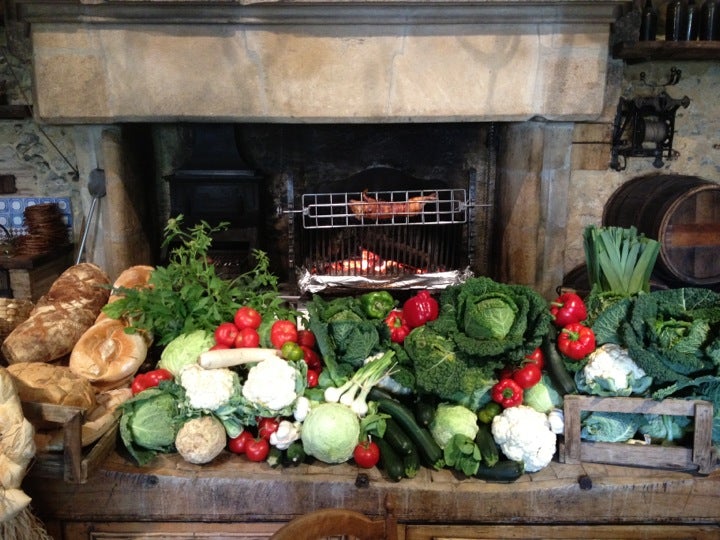 in the heart of South West France
what you want to know about Eugenie's history:
The village of Eugénie-les-Bains in the Landes region of France, between Béarn and Gascogne, owes its name to its thermal springs. The use of water to treat certain illnesses goes back to ancient times, and the frequentation of areas with mineral water springs still exists today.
At Eugénie-les-Bains, King Henri IV ordered the collection of its water. Although very popular during the First Empire, it wasn't until the second that thermal resorts as we know them today developed. The Empress Eugénie's passion for this water created a craze and members of high society began looking for cities offering thermal cures, giving birth to the Eugénie-les-Bains thermal station which still bears the name of Napoleon the Third's wife. The sources are good for Rhumatisme, Arthrosis and all kinds of ailments of the skeleton. The gentle climate and the aroma of the pines from the nearby forest have added to the reputation of this bucolic village.
The spa
the source
die Therme und die Quelle
The walk in the park is meditative, the spa can be booked for certain nice little indulging times, which I plan to book in short future.
spring is everywhere
Fruehling lockt alle Blumen heraus und sogar die Parkplaetze machen ihre Nutzer exklusiv
even parking lots make you feel exclusive
Die Fruehlingstemperaturen verlocken zu einer kleinen Ausfahrt, die uns diesmal nach Eurgenie les Bains fuehrte, eine 30 min. Fahrt dorthin zu einer Therme, die ziemlich beruehmt ist unter manch anderen in der Naehe.
Die kleine Stadt hat Restaurants und Hotels, die speziell auf die Kuristen hier warten. Die Thermalstation und ein grosses Hotelgebaeude beherrschen den Park. Hier tischt ein bekannter 3* Koch Michel Guerard auf und hat nebenher auch noch ein kleines historischen Restaurant "Ferme aux Grives" wo man sehr gut und fuer etwas weniger Geld essen kann.
Der Ort ist seit Roemerzeiten fuer seine heilenden Wasser bekannt, Henri IV, hatte bereits Wasser aus den Quellen angefordert, jedoch Eugenie, 3. Kaiserin Napoleons hat die Gestaltung und die Art wie der Ort heute im Wesentlichen aussieht veranlasst.
Die 2 Quellen erhielten da auch den Namen: Impératrice und Christine Marie. Bei Wasser sind gegen Rheuma, Arthrose und alle Arten des Bewegungsapparates.
Im Park wandelt man meditativ und das Spa kann man auch stundenweise besuchen fuer ein nettes kleines Verwoehnprogramm. Das werde ich demnaechst buchen.